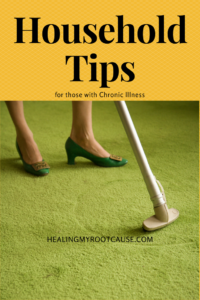 I imagine the people who know me best would laugh at the title of this blog. I've always struggled to have a clean, organized house. I grew up with that perfect Mom who always had an immaculate house, but somehow I never learned how to do this myself.
This blog is more like a conversation with myself, of things I need to do on a daily basis to manage my household chores and save my limited energy.
I'm going to share some conversations with some of the neatest, most organized people I know. Those are the people I've always envied, it just SEEMS so easy for them. How do they do it?
I've had so many lightbulb moments, it's hard to keep track, yet these particular moments always stick out in my head when I want to clean house. Now, unfortunately, I have to keep chronic illness in my head when starting off cleaning, to make sure I have enough energy or "spoons" to finish.
Stop buying things without a plan
Yes! I said it! And because it may be the holidays or a birthday, anniversary, etc. makes no difference.
When I go shopping and I see something I may want, my first question for my small, no-storage-space-house, is "where is this going to go?"
You see, without a plan of where something will live, it will just join the other piles of disorganized clutter, or simply be put on the floor somewhere. My second question being, "Do I really need this, and how often will I use it?"
A Place for Everything
One day many years ago when I was on active duty for the Army, I saw a couple men from my unit in the lodge and one was complaining about the slovenly habits of the other. The neater guy had everything set up neatly on a shelf. I was astounded and said, "How do you keep everything so neat?" He said exasperatedly, "Well, just put things away when you're done with them!" Now, his statement was another lightbulb moment, but taking it a step further, meant that everything needed its own place! Bingo!
Kitchen Tips
I love cooking, but it can get overwhelming. Now, dealing with the kitchen is a series of actions.
First, make sure the kitchen is clean, dishwasher and sink emptied, and everything is put away before beginning a recipe or cooking. Why? That enables you to "clean as you go" which is another of my favorite tips. So, my main tip is clean up after every project, and BEFORE starting a new one. And why? Because us "spoonies" or those of us living with chronic illness may not have the energy to clean up everything afterwards. So if we take the time to clean as we go, we're done at the end rather than leaving us with an overwhelming mess to clean up afterwards. And yes, we do get overwhelmed when there is too much to do and that adds to our stress and saps our precious energy.
The way my kitchen is currently set up, the sink faces outside near the window. Behind that is the counter. I make sure all dishes are cleaned from there and then I know I'm done. And make sure the sink is empty! Now as you use bowls, utensils, etc., rinse them immediately and put in the dishwasher. If anything needs to soak, use very hot water and do not let it soak for longer than 10 minutes (and yes, set a timer). Why the time limit? Because if you don't put a limit on it, it could sit in the sink for the next week…no I've never done that, why do you ask?
When making a recipe, due to our brain fog associated with chronic illness, I set everything out that I will need and put them away immediately when done. Taking a picture of your recipe ingredients may also be helpful to quickly gather everything up. And please read the recipe if it has multiple parts, and pay attention to the order in which things are done. This will help you to not get caught with the proverbial pants down.
Years ago we went to visit some friends in Washington. I noticed how immaculate the house was, so I asked the owner for her top tips. She said that as far as the kitchen went, she would always clean it before bed, without fail, no matter how tired she was! Why? Because when she got up in the morning, not only was it already done, but it looked nice too and put her in a good mood to start the day. I'll admit, I don't always succeed here, but I do think of her before I go to bed and try to get it done if I'm not too tired or in pain.
Dealing With the Mail
Don't you love going to the mailbox everyday only to find that most of it is junk? Anything without First Class Postage can be thrown in the shredder pile if it has your name and address. Throw in the recycle if not. Do this EVERY DAY. Do not let the mail pile up, make an instant decision on it once it's out of the mailbox and in your hand. If you delay your decision-making, it's going to end up in a non-recognizable pile on the coffee table or kitchen counter. My number one tip here is to do paperless billing with whatever companies offer it, and that instantly clears your mailbox of most items that need action, e.g., someplace to file it. That way if you need a statement, you can simply login and download the PDF.
Cleaning your Already-Cluttered House
So, my house is Dir-ty, what is my first step? Well, first go through each room and remove items that don't belong there, and put them in a cardboard box. Clean that area once the offending items are removed. Dusting is often neglected in a cluttered house because there are simply too many objects covering up furniture that needs dusting, and also blocking the floor. So, the first priorities are to get the items off the furniture and floor. Since we have chronic illnesses, we may need to limit what we plan to accomplish in a day. Don't feel badly, we are way past the point where we can pretend we have normal energy levels and functioning. Let's just do the best with what we have, okay? It's time to stop beating ourselves up for what we can't do, and look at what we can do. Now, think back to my earlier comments about my Army buddy and his slovenly roommate. Putting things away and having a place for everything is key to maintaining a clean, organized house. You can't clean with clutter in the way.
The Urge to Purge
So, have you used that gadget you bought a while back in the last 6 months? If not, question whether you still need it, and maybe something else can use the space it was taking up. I recommend purging your house one or twice a year. Have a garage sale, donate to the local thrift store, or see if friends want the item. With social media these days, getting rid of stuff should be easy.
Cleaning Up After Eating
I took this particular tip from a restaurant I went to years ago. I noticed that one of the servers was in training. the manager came over to tell them something like this: "Full arms on your way to the kitchen." What she meant was, pick up any items on the way back to the kitchen that the customers are done with. So, if I'm eating and watching TV, the next time I get up, I should be taking the dishes back to the kitchen, rinsing them off and putting them in the dishwasher. And also putting any empty plastic bottles in the recycling…currently working on the husband to do this…Now you can take this a step further and work your "items that don't belong here" task while you're at it. Take that box and fill it with items that don't belong there.
Have a Plan
Do a household cleaning plan or grid. Here's where it gets tricky. Because of our chronic illness, cleaning the entire bathroom may not be feasible in one day. So, break up your tasks, maybe only clean the toilets on Monday, sinks on Tuesday, tub on Wednesday…you see where I'm going with this. Do not be afraid to break up your tasks into smaller segments that do not seem overwhelming. If we tell ourselves we have to get the entire bathroom done, none of it may get done at all. We need to lose those perfectionist and competitive traits to enjoy our "new" success.
To summarize, here are my top tips for household organization with a chronic illness:
Don't buy anything for which there is no space, or you don't have a definite plan to use it regularly
Everything needs a place, and put things away when finished
Clean as you go when cooking
Clean up after finishing a project and BEFORE starting a new one
Keep surfaces and floors clutter-free for best cleaning
Take dirty dishes, garbage, recycling to kitchen regularly
Purge regularly of unused items
Have a cleaning plan that breaks tasks into smaller segments